Texas Courthouse
Prints For
Home or Office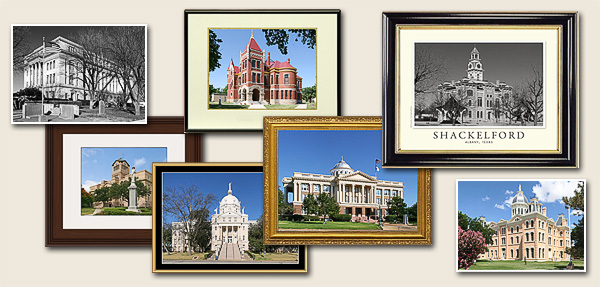 The Perfect Gift or Award for Law Offices, Government Officials, Employees, or Honorees.
All Photographs custom sized and printed to meet your exact specifications.
We've had lots of folks find our website and request archival quality display prints of various courthouses. We have prints "hanging" in every corner of Texas including governmental, corporate & law offices as well as in private collections. Some out-of-state individuals have even bought our prints as a reminder of "home".

About the Photographs and the Prints

Dave Fulp, a professional photographer, along with his wife Renee have spent over three years and logged over fifty-thousand miles to capture professional high quality photographs of all the current (and prior, but still existing) courthouses in every one of the 254 counties of Texas. Multiple trips to each region of the state have been required to catch each courthouse at just the right time of year and in the "perfect" light. (see more about us and our travels)

Every image in our collection was captured with state of the art professional digital Canon cameras, at resolutions between 12 and 21 mega-pixels. That's high enough resolution to allow for very high quality prints up to 20 by 30 inches.

All of our fine-art quality archival prints are produced using a Giclée, process in 12 colors on the highest grade, heavy-weight satin photographic paper. Keep them out of direct sunlight and they should last for a lifetime.

Color, Sepia or Black & White

The color in our photographs is excellent, but due to the historic nature of the buildings themselves, many of our clients have requested Sepia or Black & White prints. Even the more modern buildings seem to take on more of an "historic" feel when printed in black & white or sepia. There is no difference in cost… so let us work with you to decide which version works better in your intended display area.

See some of our courthouse images at the drop down links below... If you see something you like but it's not "quite" what you're looking for.... contact us. We have multiple views of most courthouses and we're always getting updated shots of the courthouses, so there may be better views we haven't posted online.

Click below to enlarge samples

| | | |
| --- | --- | --- |
| Color | Black & White | Sepia |


Borders, Backgrounds & Titles

We can incorporate borders, backgrounds and titles into any of our prints. Often displaying your print in a "gallery" style can be much more impressive. You can accomplish that by adding matte's to your frames (expensive) or have us add backgrounds and borders for a classic look, and at nominal expense.

For instance, instead of printing a 16" x 20" full frame photo, we can reduce the actual image size of the courthouse to something like 11" x 16", and then add a 2" background top, left and right, and 3" at the bottom. This gives your print a "matte" or "gallery" effect. The standard background colors are white, off-white/ivory, warm gray or neutral gray. Another good effect is to add a roughly 1/4" white border around the image with a drop shadow underneath. Custom background colors or exact matches to wall or other décor can be done at an additional fee. Just ask.

You might also want to add a title. We have found that the County name in larger letters with maybe the City name below usually works the best. A few of the standard border and title options are illustrated below. (Note: Colors may display differently on your monitor.




White Background

White Border on White BG

White Border on Warm Gray BG

White Border on
White Background + Titles

White Border on Neutral
Gray Background + Titles

White Border on Ivory
Background + Titles

Click on the samples above for larger versions. (You can mix or match any of the above)

Sizes & Prices

Almost all of our courthouse photographs print better in a horizontal format., but some are available as verticals. To save money on framing, we recommend you purchase your print to fit standard frame sizes. However, since all orders are custom produced, we can supply most any size you want, up to a maximum of 60" by any length.

It's VERY IMPORTANT that you communicate with us first before choosing your sizes or purchasing frames for your prints. Not all courthouse photos will crop the same. Some images may be very wide, some almost square and others may be best printed vertical. Sometimes the addition of borders can help us fit our photos to your preferred frame size.



Print Size
(in Inches)
Base Price
Color, Sepia, B$W
Add White
Background
Add Color
Background
Inside Border
w w/o Shadow
County and/or
County/City Titles
8 x 10
$40
+ $10
+$15
+$5
+ $10
8.5 x 11
$40
+ $10
+$15
+$5
+ $10
9 x 12
$50
+ $10
+$15
+$5
+ $10
11 x 14
$65
+ $10
+$15
+$5
+ $10
12 x 18
$75
+ $10
+$15
+$5
+ $10
14 x 18
$85
+ $10
+$15
+$5
+ $10
16 x 20
$100
+ $10
+$15
+$5
+ $10
18 x 24
$115
+ $10
+$15
+$5
+ $10
20 x 24
$125
+ $10
+$15
+$5
+ $10
20 x 30
$155
+ $10
+$15
+$5
+ $10
24 x 30
$175
+ $10
+$15
+$5
+ $10
In between sizes are priced at next size up. Larger sizes are available - Contact us.


(*Texas Sales Tax of 8.25% will be added to all order shipped within Texas unless a proper Texas Sales and Use Tax Exemption Certification is provided.- http://www.window.state.tx.us/taxinfo/taxforms/01-3392.pdf)

BUY MORE & SAVE - up to 1/3 OFF the base price - We discount additional prints (of the same courthouse) ordered and shipped at the same time. Save 25% on the first additional print and 33% on each additional print there after. (Reminder: Background, Border and Title costs apply to only the first print) Example: One 16 x 20 print with standard white background and county/city names would be $90 + $10 + $10 = $110. The second exact print of the same courthouse would be the base price of $90 - 25% = $67.50. The 3rd and each additional print would be $90 - 33% = $60.

Multiple Courthouses Discounts. - If you need prints of a lot of courthouses, contact us to discuss "project" pricing.

Save on Reorders too. We archive all our orders so we can offer discounts on reorders. Save you 10% on the first exact re-order print... 25% on the 2nd and 33% for each additional.

Digital Retouching - Since a lot of our work is historical in nature, our general policy on retouching is to print our courthouse prints "as we found and photographed them". However, we'll usually digitally "clean-up" lens dust or small pieces of trash, debris or other distracting objects that are not an integral part of the courthouse structure or landscape. There is no charge for that work, but what objects we take out, and what we leave is at our discretion. Most of the photos you see on our website have already had the basic cleanup work done. If you want more substantial retouching on a specific print, let's discuss it. If it's minor, there may be no additional charge, but major retouching or alterations can result in additional cost. We'll give you a firm quote on any of those alterations before beginning work.

Shipping

We ship via USPS insured. Smaller prints are shipped in flat protected photo mailers, larger prints are rolled and shipped in heavy-duty mailing tubes. Cost for the mailers/tubes and shipping usually runs between $10 for small sizes but usually not more than $20 for larger sizes. We'll get you an exact shipping cost before finalizing your order. Expedited, FedEx or UPS shipping is also available... but may cost more.

Framing

Frames are sized by the dimensions of the print. For instance a 16" x 20" frame would hold a print of that size, but the width of the frame stiles may be several inches wide, making the total outside dimensions quite a bit larger.

We recommend you buy your frames locally. We'll be happy to give you guidance on what works best from what you have available. Please check your local sources for availability of sizes before ordering your prints. Michael's Art's & Crafts and Hobby Lobby are very good sources for "off-the-rack" frames of all the common sizes. Most of the larger craft stores have custom framing departments as well.

On-line frames. If you don't have a good local source or are not close to a larger city, you can always order your frames on-line. Two good sources are: FrameDestination.com and PictureFrames.com. Important: When ordering frames on-line, most frame kits are sold in two parts; the frame itself, then the glass or acrylic insert. The UV acrylics are a good choice as they not only protect the surface and colors in your print, they're also less likely to break during shipping.

How it Works & How to Order

If you're interested the first thing you need to do is contact me (Dave) at Prints@TexasCourthouseTrail.com. Let me know what you need and how and when's the best time to get back to you. Please provide name, and phone for quickest response. I'll call or send you my detailed contact info and we'll work out the details of your order and a final firm price in advance. Even though all orders are custom produced, I can usually get them out in 2 or 3 days, a week at the most if I'm extremely busy. The U.S. Post Office normally takes 3-4 days. If you're in a rush... let's discuss it.

PAYMENT: Ordering with your credit card is the fastest, as we can't begin production until we've received your payment.

REFERENCES: Yep… we got 'em. If you need them, let us know and we'll happily provide them.

Copyrights & Print or Web Usage

The display prints featured on this page are intended for your personal or organization's use as a display only. All other rights reserved. The use, copying, or further distribution is NOT included with the purchase of a print. To use our images for other purposes... please contact us. Web use for certain non-profits might be free. We also license use of our photos for commercial Web or Print usage. See more about it here.



---
Home • County Courthouse Photographs • About • Resources & Links • Buy Prints • Sitemap